Shenzhen JDT Fuse Industrial Co., Ltd is specialized in R&D, production, and sales of overvoltage and overcurrent protection devices. JDT Fuse products are Lead-Free, RoHS compliant and approved by UL, VED and TÜV. Applications include computers, communications, security, automotive, toys and home appliances. For years JDT Fuse has been focusing on the production and promotion of circuit protection devices. We believe that with high quality products and excellent services we are able to succeed together with our partners.
JDT Fuse Brand
Overcurrent protection devices: resettable PTCs, Single-Use SMD Chip Fuses, Miniature Fuses, Glass Fuses, Ceramic Fuses, Thermal Fuses, Auto Fuses and Resistance Fuses.
Overvoltage protection devices: Transient Voltage Suppressor Diodes (TVS Diodes), Electrostatic Discharge protection (ESD), Metal Oxide Varistors (MOV), Gas Discharge Tubes (GDT), Thyristor surge suppressors (TSS).
Meanwhile JDT Fuse is a distributor of World-Leading brand Littelfuse.
Our strengths are
Big stock, fast acting

Products compliant with UL, VED, TUV, CCC, CSA, SGA, RoHS standards

Free samples, tests and customized design are provided on request
History of JDT Fuse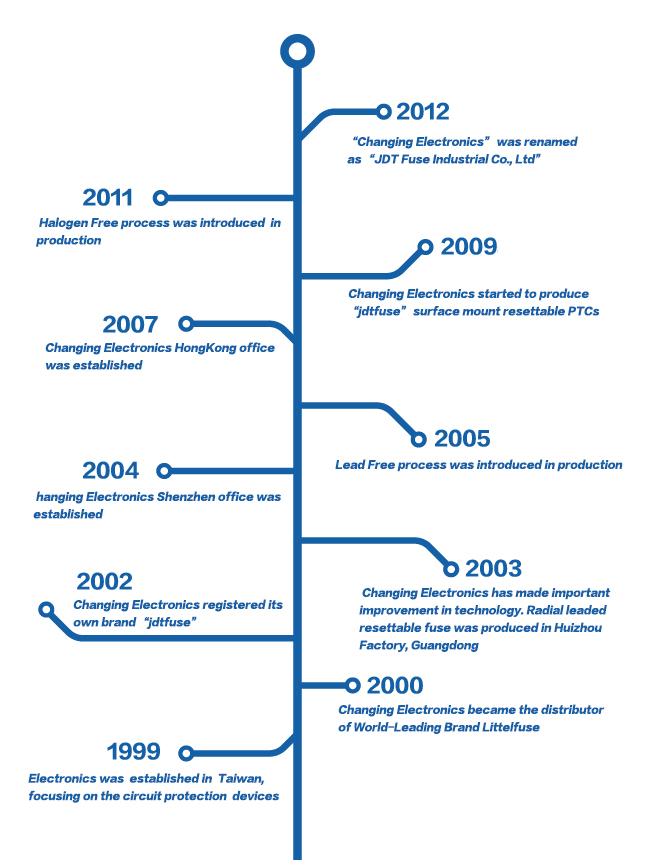 1999 – Changing Electronics was established in Taiwan, focusing on the circuit protection devices
2000 – Changing Electronics became the distributor of World-Leading Brand Littelfuse
2002 – Changing Electronics registered its own brand "jdtfuse"
2003 – Changing Electronics has made important improvement in technology. Radial leaded resettable fuse was produced in Huizhou Factory, Guangdong
2004 – Changing Electronics Shenzhen office was established
2005 – Lead Free process was introduced in production
2007 – Changing Electronics HongKong office was established
2009 – Changing Electronics started to produce "jdtfuse" surface mount resettable PTCs
2011 – Halogen Free process was introduced in production
2013 – "Changing Electronics" was renamed as "JDT Fuse Industrial Co., Ltd"